Fall Event Calendar
Interactive Calendar: Clicking on the calendar date will bring you to the COSI Fall Fairs venue page. Open in late May, 2022.
Scanners: Your StriveScan App is now included in your registration fee to make your collection of student interest data simpler than ever. StriveScan is the same company that provides scanning capabilities for many of the regional NACAC affiliates and organizers of college and university events across the United States and in over 30 countries globally. For detailed information regarding the StriveScan app, lead collection, and instant export, please click HERE.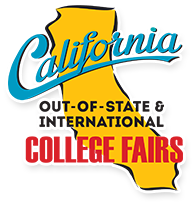 California Fall Event Calendar
October 2022
Spend a week out West! ~ Attend multiple in-person events plus a county-wide online virtual fair!
Registration opens in late May, 2022
Sun
Mon
Tue
Wed
Thu
Fri
Sat

9

10

11

 

PSAT Testing

 

13

 

14

 

15

16

17

COSI Fair TBA

18

COSI Fair TBA






19

COSI Fair TBA

County-Wide Virtual Fair: 5p-7:45p PST Multiple Orange County high schools



20

COSI Fair TBA

21

COSI Fair @ Savanna HS, Anaheim
9:30a-11:30a 



22
*Please contact Becky directly at outofstatecollegefairs@gmail.com for questions.
Register Here Registration opens in late May
Click HERE for our Event and Hotel Map
Click HERE to Register for in-person and/or our virtual events Registration opens in late May
Please Note: If COSI College Fairs must cancel an event due to unforeseen circumstances, 100% of your registration fees will be refunded promptly. COSI College Fairs is not affiliated with NACAC or WACAC, whose events may be listed for planning purposes only.