Fall Event Calendar
Interactive Calendar: Please click on the highlighted calendar dates for COSI Fair locations.
Scanners: Go To College Fairs will once again offer the use of scanning technology to aid in your collection of student interest data for our 2020 Fall college fairs. Go To College Fairs is the same company that provides scanning capabilities for the NACAC and OACAC fairs. For detailed information, including renting a scanner or to download the smartphone app, please click HERE.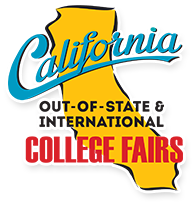 California Event Calendar ~ Fall 2020
Fall events are canceled
All events have been canceled due to the pandemic.
We hope to see you next year!
Please note: ALL FALL EVENTS HAVE BEEN CANCELED due to COVID 19.
Click HERE for our Event Map
College2Career Fairs are also typically available during the same time period. College2Career Fairs organizes events in LA and San Bernardino Counties and works in cooperation with COSI Fairs to provide a full schedule of Southern California fall college fair events for out-of-state and international institutions during the same time period.
Please Note: If COSI College Fairs must cancel an event due to unforeseen circumstances, 100% of your registration fees will be refunded promptly. COSI College Fairs is not affiliated with NACAC or WACAC, whose events may be listed for planning purposes only.